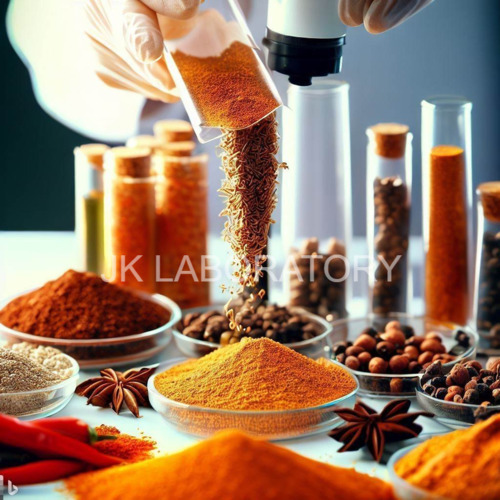 Spice Testing Services
Service Description
We Have Expertise in Offering World Class Spice Testing Services.
All Types of Material Testing Services Facility is Available in Our Laboratory.
Spice Testing Laboratory
Testing Parameter :
MICROBIOLOGICAL PARAMETERS
Aerobic Spore Count
Bacillus Cereus
Clostridium perfringens
Coliforms
Enterobacteriacea
E. coli
Mould (Microbiological)
Salmonella
Shigella
Staphylococcus aureus
Sulphide Reducing Clostridia
Thermostable bacteria
Total Plate Count (TBC + Y&M)
Total Aerobic Bacteria
Yeast
Yeast & Mould
PHYSICO-CHEMICAL PARAMETERS
Acid Insoluble Ash
Added Colouring Matter
Aflatoxins, Total (B1+B2+G1+G2)
Aflatoxins, Individual (B1, B2, G1, G2)
Alcohol Soluble Extract
Argemone Oil - Adulterant
Bulk Density / Litre weight of Spices
Calcium, as CaO
Capsaicin
Chromate (Lead Chromate Test) - Qualitative
Cold Water Soluble Extract
Colour Value
Common Salt (NaCl, Sodium Chloride)
Crocin (Saffron's Pharmacologically Active Substance)
Crude Fibre
Curcumin
Excreta, mammalian
Excreta, others
Extraneous / Foreign Matter
Foreign Edible Matter
Filth, Heavy
Filth, Light
Gingerols & Shogaols (Pungent Compounds)
Hydrocyanic Acid
Insect Defiled / Infested Matter
Light Berries
Mineral Oil (Coating) - Adulterant
Moisture
Mould (Physical)
Nitrogen
Non-Volatile Ether Extract
Off Odours
Oleoresins
Oleoresins (three capsaicin oleoresins)
Picrocrocine (Saffron's Pharmacologically Active Substance)
Piperine Residual Solvent (any one as per manufacturer's requirement)
Residual Solvent (complete scan as per USFDA requirement) - 6 Solvents
Saffranal
Starch
Sudan I, II, III, IV
Sulphur Dioxide, SO2
Total Ash
Volatile Oils
Vanillin
Water Soluble Ash
Whole Insects (Dead), by count
HEAVY / TOXIC ELEMENTS
Arsenic, As
Cadmium, Cd
Chromium, Cr
Copper, Cu
Iron, Fe
Magnesium, Mg
Mercury, Hg
Molybdenum, Mo
Lead, Pb
Tin, Sn
Zinc, Zn & ETC.
AGROCHEMICAL / PESTICIDE RESIDUES
Organo Chlorine Residues
Organo Phosphorous Residues
Organo sulphur Residues
Organoacids Residues
Organotins (as Sn) Residues
Inorganic Bromides
Triazines
Synthetic Pyrethroids
BANNED DYES
Sudan Dyes
Sudan Dyes (I, II, III, IV)
BANNED SOLVENTS
Residual Solvent (any one as per manufacturer's requirement)
CLEANLINESS SPECIFICATIONS
Trade Information
Ahmedabad

Cash in Advance (CID), Cash Advance (CA)
Contact us for information regarding our sample policy

Any
Contact Us
16, Dharti Tenament. Opp.Labharth Society. Nr. Parth Society, Thakkarbapa Nagar, Ahmedabad, Gujarat, 382350, India
Phone :+918037401237